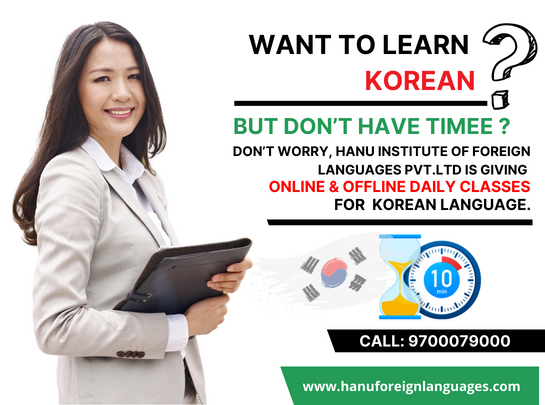 Korean language course in Hyderabad
Are you planning to learn the Korean language course in Hyderabad? Then you have no worries as our Hanu Institute of Foreign Languages is here. You can join here with no second thoughts to reach your goals. There will be demo batches every Monday, both #online and #offline sessions are available.
There are many more sessions that our institute provides. If you are interested in any course, you can let us know then we will offer the course to you at the same time as the class.
You will be trained by native speakers and each batch consists of a minimum of 5 members.
You can easily interact with the trainer and clarify your doubts. There is no need to think that " It's tough or I can't learn". No one is born with speaking their language. Our trainers will train you in the best way. You should be positive and should have the stamina to prove yourself.
Learn a foreign language from the comfort of your home and get set for global job opportunities. Our weekend batches are starting soon.
To know more about our language courses visit our website www.hanuforeignlanguages.com or? BOOK FREE DEMO CLASS
Best #Online And #Offline Foreign language classes in Hyderabad
⚫ Course For Beginners (A1+A2)
⚫ Intermediate (B1+B2)
⚫ Proficient (C1+C2)
⚫ comfortable learning
⚫ An Affordable fee structure
⚫ Five Students Maximum in One Batch
⚫ One-to-One Learning Facilities
⚫ Live Online Classes
⚫ Small Batch Sizes
⚫ Includes Course Material