The Germans have their own place in the history of time, and when it comes to the German language, it follows the same heritage. Germany is the country that frightens the world with new innovations in automobiles, automation, and other technologies. One way to enter this world is through language. Learn German classes in Hyderabad help many Indians to fulfill this wish.
ABOUT GERMAN LANGUAGE CLASSES
German is a language that is spoken by about 100 million people worldwide. It is the main language for the people in the European Union. And hence, the German language becomes the 3rd most accepted language to be studied as a Foreign Language after French and Russian. After English, German is the second language that is instructed the most in the U.S.A.And hence, German Courses in Hyderabad (Hanu Foreign Languages) take the responsibility to deliver a thorough education about this language.
The Necessity of learning German
The German language originates from Germany; however, it speaks in many components of the world. Countries with Germany principal language rank in the publication of books and ebooks. Therefore, having a comprehensive mandate on the German language can open the door for those who try the publishing business. German is a well-known language in Germany, Austria, Switzerland, South Tyrol and parts of Belgium. This is the reason why foreign language courses in Hyderabad focus on directing students towards learning this language.
GERMAN LEARNING INSTITUTES IN HANU FOREIGN LANGUAGES
Hanu Foreign Languages, being one ofthe best German classes in Hyderabad gives you a wide scope of understanding the different aspects of the language using which you can excel in the outer world. We choose German in our curriculum because of the global demand for this language. And by choosing us, you get a step closer to become an expert in this language.
TESTS AND CERTIFICATES
At our Foreign Language Course in Hyderabad, we designed the course so that our students could become master of the language by the end of the course. We run tests that help assess the proficiency of the language, and these tests play a major role in self-evaluation. They help students understand areas of hard work. We have a globally accepted certificate in clearing exams and exams of course. Therefore, in the foreign languages ​​of Hanu, we ensure that our students have perfect mastery of the GERMAN language after completing our course.
CAREER OPTIONS
As cited earlier, German is a language that is deeply used in scientific research. Learn German in Hyderabad, which is the proper choice to make in the world of science. Also, there are many possibilities in the area of tourism, translation, and proofreading. In the recent past, many MNCs have come up with the demand for candidates with mastery of the German language. Students shifting to German for higher education like MS constantly knock on our door to learn a new foreign language. So, if you are thinking about g, this is the best time to learn German in Hyderabad with Hanu foreign languages.
| | | |
| --- | --- | --- |
| learn German | Levels | Durations |
| | A1 | 45 Days |
| | | |
| | A2 | 45 Days |
| | | |
| | B1 | 45 Days |
| | | |
| | B2 | 45 Days |
| | | |
| | C1 | 45 Days |
| | | |
| | C2 | 45 Days |
WE CURRENTLY OFFER COURSES IN:

7 LANGUAGES, ALL LEVELS, FROM BEGINNER TO ADVANCED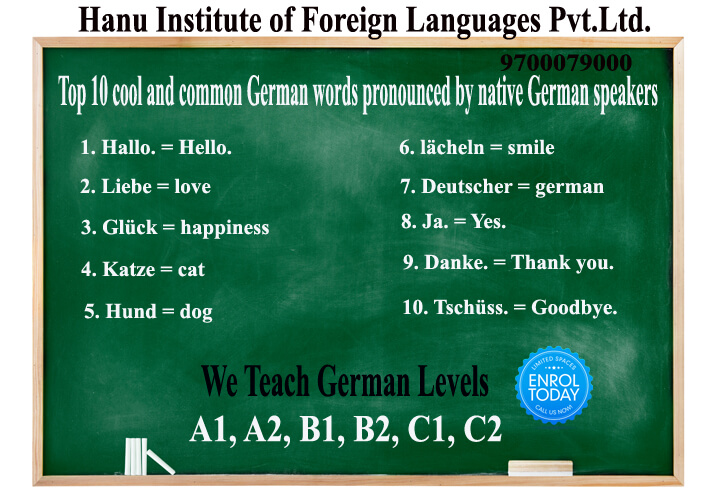 Online and offline a variety of formats and ranging from intensive,
Regular and Weekend Batches.

These courses are great for individuals or benefit scheme, and offer:

☛A fun, interactive and stimulating way to learn
☛A friendly atmosphere and a great way to meet people

☛Extremely good value for money.

☛Corporate training is available.